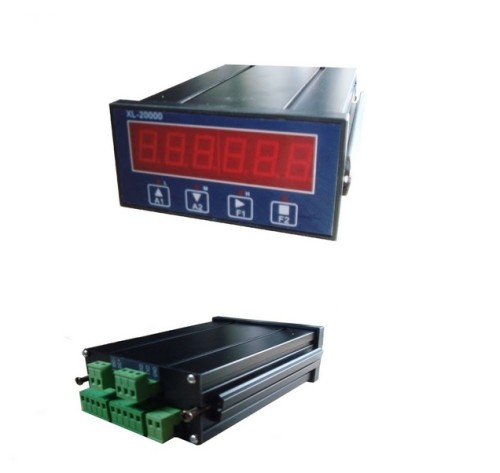 Indicator-HZ2000 Weighing Indicator Batching Control Indicator
Item specifics
Usage

for batching controller
Main supply

110V/220V AC±10%,50/60 Hz
Power consumption

9VA
Division

1;2;5;10;20;50
Non-linearity

0.005 % of Cn
Description
interchangeable with Vishay HBM,Mettler Toledo Load cell
Good quality and long life with competitive price!

High conversion rate up to 200 times/second
● 6 kinds of Peak/Valley hold function can be
selected (Manual or Automatic reset)
● 4 Programmable opto coupler input
● 9 kinds of input function can be selected
● Hysteresis Hi/Lo comparator is available (if
optional set point comparator is installed)
● Span calibration by calculated sensitivity is
Available
● RS data output can be activated by external
"Print" function
● Cascaded RS232 option is available for multi drop
communication
● Keyboard function can be remotely controlled by
RS232/RS485 or opto coupler input
● Optional RS232 or RS485 serial input/output port
● Optional Hi/Lo comparator output
● Optional BCD board or analog output
● Optional 0...5V; 0...20mA; 4...20mA output.
Application :

 

 

Compact in size, and with a cost effective design, the basic unit is available for simple weighing purposes. Four opto-coupler output are available. kg/lb conversion is available. Hold/valley hold function is available.
Hysteresis control is available for Hi/Lo comparator. PT650D is suitable for all kinds of application such as hopper and weigh platform.






Technical Data

Model

HZ2000

Main supply

110V/220V AC±10%,50/60 Hz

Power consumption

9VA

Line filter

Built-in

Operating temperature

-5℃…50℃ (23

o

F…122

o

F)

Relative humidity

90%,non-condensing

Load cell type

All strain gage type

Load cell supply

10V DC,150mA(4

×

350

Ω

load cell)

Input sensitivity

0.5

μ

V/D to200

μ

V/D

Zero point adjustment

Range from 0.05mVto 15mV

Temperature coefficient

8 ppm/℃of Cn

Non-linearity

0.005 % of Cn

Conversion rate

200 times/second (max)

Internal resolution

16,700,000

Scale range

500 … 100,000

Division

1;2;5;10;20;50

Maximum display resolution

10,000 divisions

Display

13mm LED display (6 digits)

Display Up-date rate

1;4;8;16 or 20 selectable

BCD output rate

4;8;16;20;60;80 or 100 selectable

RS232/RS485 port (Option )

bi-directional
2400;4800;9600 or 19200 baud selectable,
7 data bit,even parity,1 stop bit

Hi/Lo or control output (option)

Photo-coupler 80V DC max.0.3A

Unit

kg/t

Supplied accessories

Instruction manual, Load cell connector,
Power cable, Fuse

Dimensions

96 mm(

W

)×48 mm(

H

)×144 mm(

L

)

Weight (G), approx.

0.82kg