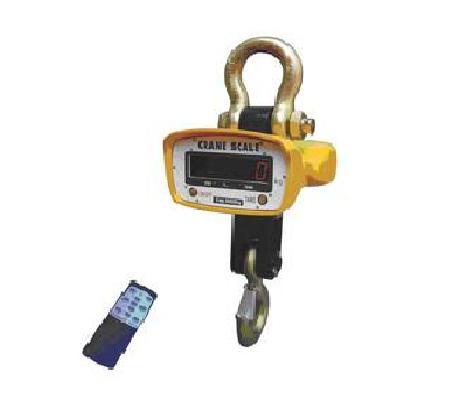 OCS-S-3T Crane Scale for remote controler hanging Scale with Large red 5 digit LED display
Item specifics
application

remote controler,overload warning
Description
◆Multi-weighing units:
Kg, lb, N are selectable, generally kg is the default unit.
◆Multi-function operation:
Tare;Zero;Auto zero tracking;Total;Hold; Overload warning and record, operate through remote controller,etc functions.
◆User-friendly design:
Cast aluminium housing for maximum protection; Large red 5 digit LED display (digit height 30mm); Battery Operated with low battery indication; Automatic turn off , power-saving function.

Crane Scale with remote controller

Good quality and long life with competitive price!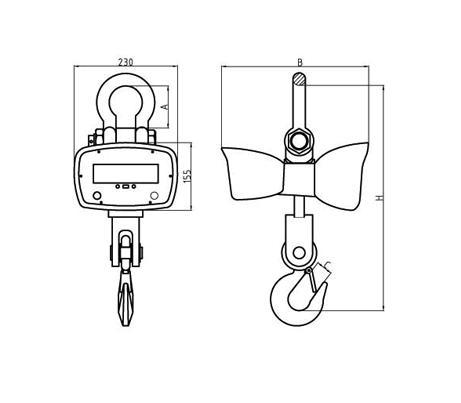 | MODEL | A(mm) | B(mm) | C(mm) | H(mm) | N.W.(kg) |
| --- | --- | --- | --- | --- | --- |
| OCS-S-1 | 67 | 350 | 33 | 450 | 13.5 |
| OCS-S-2 | 67 | 350 | 33 | 450 | 13.5 |
| OCS-S-3 | 95 | 350 | 40 | 510 | 17 |
| OCS-S-5 | 113 | 365 | 50 | 625 | 26 |
| OCS-S-10 | 122 | 365 | 60 | 760 | 40 |
| OCS-S-15 | 144 | 365 | 70 | 835 | 55 |
| OCS-S-20 | 166 | 365 | 85 | 900 | 68 |
| MODEL | Max. capacity(kg) | Min. weigh(kg) | Division(kg) | Total dispay counts (n) |
| --- | --- | --- | --- | --- |
| OCS-S-1 | 1000 | 10 | 0.5 | 2000 |
| OCS-S-2 | 2000 | 20 | 1 | 2000 |
| OCS-S-3 | 3000 | 20 | 1 | 3000 |
| OCS-S-5 | 5000 | 40 | 2 | 2500 |
| OCS-S-10 | 10000 | 100 | 5 | 2000 |
| OCS-S-15 | 15000 | 100 | 5 | 3000 |
| OCS-S-20 | 20000 | 200 | 10 | 2000 |
| Standard | According to OIML class III |
| --- | --- |
| Display | 30mm (1.2'') 5digits LCD/LED |
| Zero Range | 4% F.S. |
| Tare Range | 100% F.S. |
| Stable Time | ≤10seconds |
| Overload Indication | ≤10seconds |
| Overload Indication | 100% F.S. + 9e |
| Max. Safety Load | 125% F.S. |
| Ultimate Load | 400% F.S. |
| Battery Life | ≥70 hours |
| Battery Type | Fully sealed Lead-Acid battery, 6V/7Ah |
| Adapter | DC9V/1000mA |
| Operating Temp. | - 10℃ ~ + 40℃ |
| Operating Humidity | ≤85% RH under 20℃ |
| Remote Controller Distance | Min. 15m |
| Battery of Remote Controller | AAA battery, 1.5V×2 |